Kielen vaihtaminen
HUOM!. Kielen vaihtaminen vaatii koneelta uloskirjautumisen, talleta työsi ja sulje ohjelmat ennen kielenvaihtoa.
Windows 7 kielenvaihto tapahtuu seuraavilla ohjeilla:
1. Avaa Change Display Language (kirjoita käynnistysvalikkoon language, ko ohjelman pitäisi ilmestyä listalle)
2. Alla olevan kuvan mukaisesta ikkunasta valitse suomi kohtaan Choose a display language
3. Paina OK tai Apply. Koneelta pitää kirjautua ulos että kielenvaihto tulee toimeen. Paina Logoff now.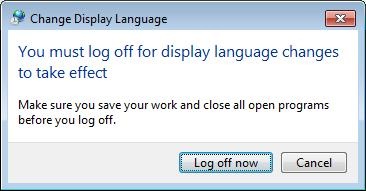 Kirjautumisen jälkeen käyttöjärjestelmä on suomeksi.


Changing the display language
Skip to end of metadata
Go to start of metadata
You must log in to comment.