Google Sheets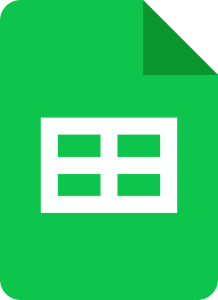 Google Sheets (formerly known as Google Spreadsheets) is a browser based, collaborative spread sheet program that runs as a cloud service. It is part of Google Docs office suite which in turn is part of the larger package Google Drive .
Also Microsoft Excel's xls and xlsx files can be imported to Google's spread sheet program.
Other Google Sheets type of services include Microsoft Excel Online.
It is not advisable to upload personal ID data or sensitive information to Google  services.
Address
Kirjallisuutta - Literature
Kursseja - Courses
Videoita - Videos
Targets of use
calculations
project management
budgeting
collecting of data (no personal data)
Terms of Service
The application belongs to the authorized work and study tools in Metropolia.
Metropolia students and staff members use the service with their Metropolia accounts. Links to guides. 
User support is provided by the Metropolia IT Services Helpdesk. 
Terms of Service of Metropolia cloud services must be applied by each user.  
Google Workspace shares collected data internally or also with third-party companies. 
#trackbackRdf ($trackbackUtils.getContentIdentifier($page) $page.title $trackbackUtils.getPingUrl($page))
You must log in to comment.