PaperCut - Asiakasohjelmisto
Mikä se on?
PaperCut -asiakasohjelmisto mahdollistaa kaikille käyttäjille oman tulostusjärjestelmän saldon seuraamisen työasemalla. Käytettävissä olevaa saldoa voi käyttää monitoimilaitteilla tulostamiseen ja kopiointiin. Kopiohinnasto löytyy täältä.
Miten sitä käytetään?
Ohjelma käynnistyy automaattisesti kirjautumisen yhteydessä ja sen päällä olon huomaa omasta kuvakkeesta kellon vieressä, alareunassa.

Asiakasohjelmisto aukeaa kuvakkeesta painamalla.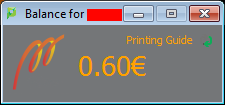 Asiakasohjelmisto näyttää kirjautuneen käyttäjän tämän hetkisen saldon. Tarkempia tietoja löydät kirjautumalla palveluun osoitteessa https://print.metropolia.fi
Skip to end of metadata
Go to start of metadata
#trackbackRdf ($trackbackUtils.getContentIdentifier($page) $page.title $trackbackUtils.getPingUrl($page))
You must log in to comment.