Access 2013 - Custom Web App -virhe
Custom Web App -luontivirhe
Luotaessa uutta Custom Web App -ohjelmaa Access 2013 -ohjelmalla, antaa Access herjan, ettei ole oikeuksia pilvipalveluun.

Ongelmana on, että Access koittaa luoda tarvitsemansa tiedostot väärään paikkaan. Tarkastamalla oikean sijainnin pilvipalvelussa, voidaan ongelma kiertää.
Kirjaudu Office 365 -pilvipalveluun, menemällä selaimella osoitteeseen http://portal.office.com.
Avaa OneDrive vasemmasta ylänurkasta.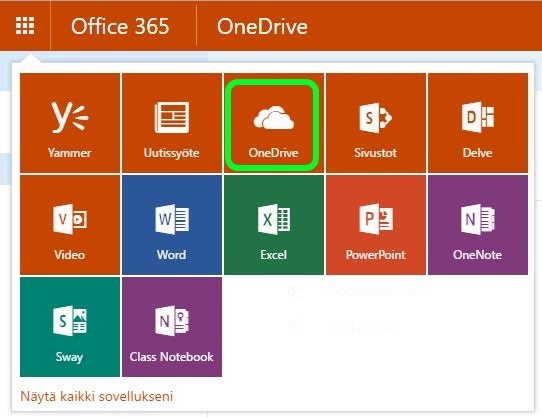 Poista osoiteriviltä _layout -kohdasta lähtien loppuosa.

Kopioi jäljelle jäänyt osoite talteen joko Ctrl+C -yhdistelmää käyttäen tai painamalla hiiren oikealla Copy.

Siirry takaisin Access 2013 -ohjelmaan ja liitä osoiterivi Web Location -riville. Paina lopuksi Create ja Access'in pitäisi hetken kuluttua luoda uusi ohjelma.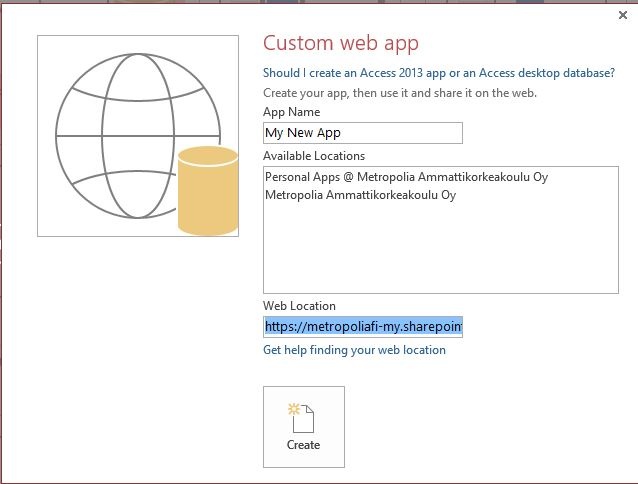 Skip to end of metadata
Go to start of metadata
#trackbackRdf ($trackbackUtils.getContentIdentifier($page) $page.title $trackbackUtils.getPingUrl($page))
You must log in to comment.