Printing via bypass tray
If needed, one can print onto special papers and transparencies. Special papers could be used for certain print jobs, for example final thesis etc.
In order to accomplish this, certain settings have to be set before printing.
Paper type by the weight of the paper
Paper types that are supported by Canon multifunction printers.
| Paper type | Weight g/m3 | Standard | Definition |
| --- | --- | --- | --- |
| Plain 1 | 60-90 | | |
| Plain 2 | 64-105 | | e.g. Normal A4 and A3 sheet |
| Plain 3 | 91-105 | | |
| Heavy 1 | 91-180 | | |
| Heavy 2 | 106-220 | 2-sided | e.g. certificate paper and paper cover |
| Heavy 3 | 129-256 | Paper casette | |
| Heavy 4 | 164-300 | Multipurpose level | |
Using bypass tray
1. Depending on the program that is being used, either select Printer Properties or Preferences.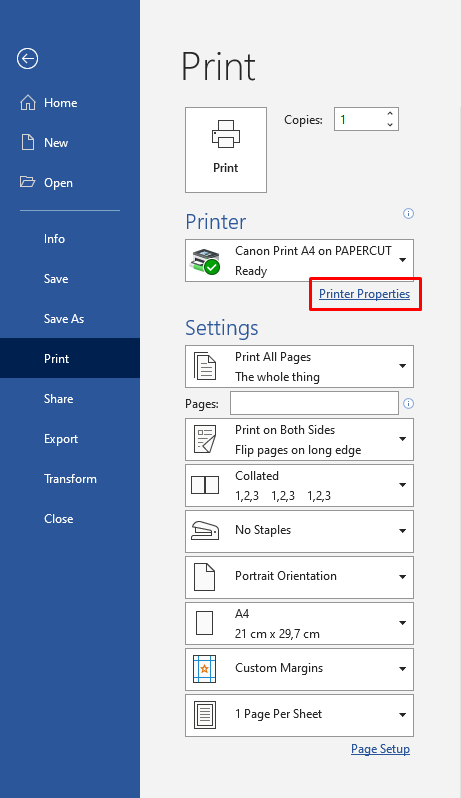 2. Select Paper Source tab. From "Select by" choose Paper Source and from "Paper Source" select Multi-purpose Tray. Press OK.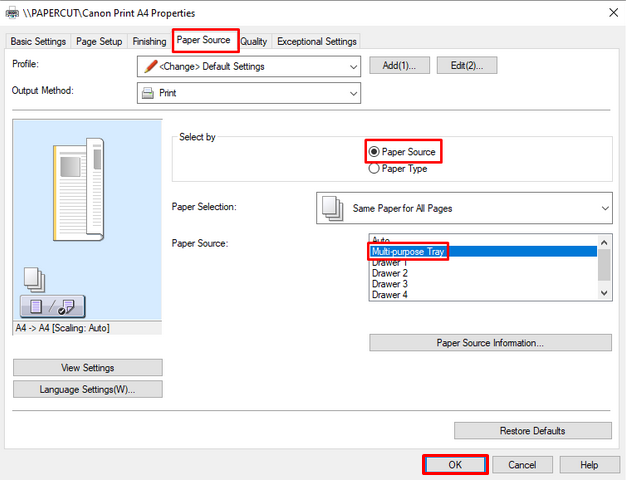 3. Print the document.

4. Open Bypass tray from the device and put papers or transparencies in. (Printing side downwards)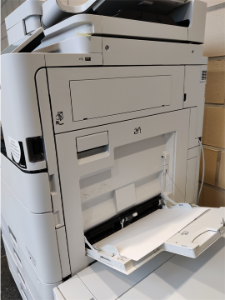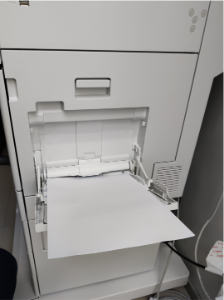 5. Align paper controllers so that they are touching papers or transparencies. Note! Only use transparencies that are suited for printing with laser printers!
6. Choose paper size and type from multifunction device .(Näkymä riippuu laitteesta.) Choose paper size and from Change button and choose paper thickness depending on paper type. Select Transparency as Paper Type when printing on transparencies.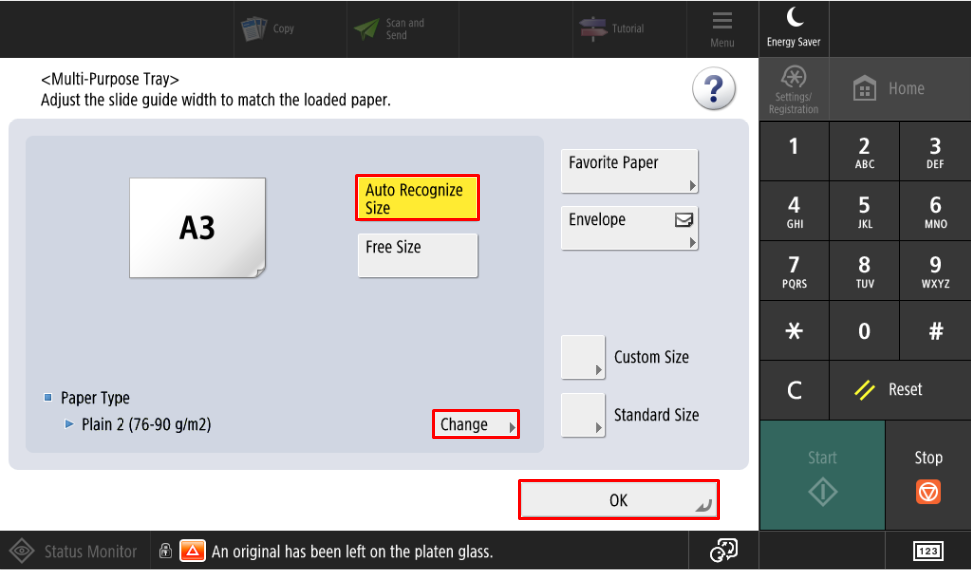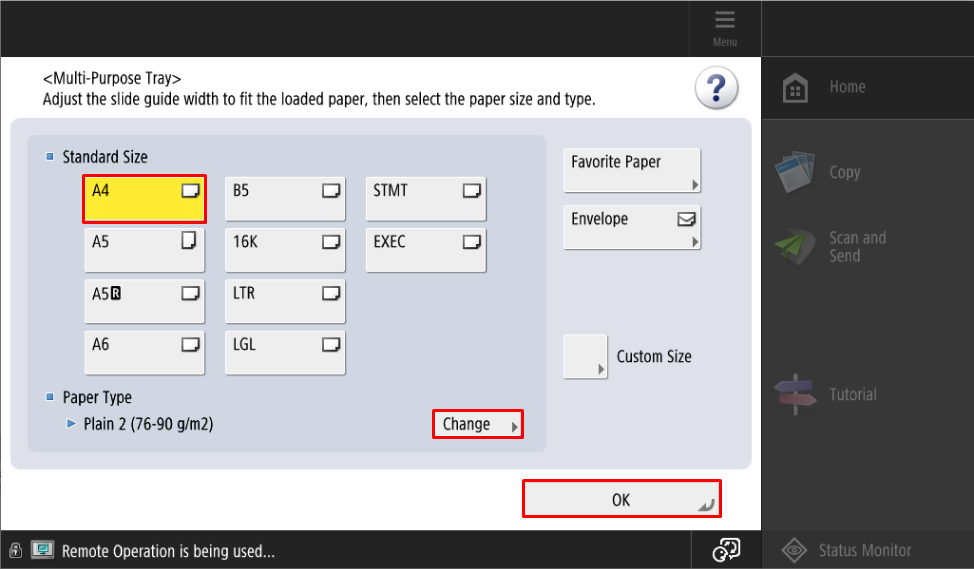 7. Finally press OK and print out the job normally.
Note! A3 transparencies >> When device is waiting for paper from the bypass tray, select Normal. This is because the device does not know that A3 transparencies exist.

Double sided
In Metropolia default printing setting is 2-sided printing. Check that your settings are in order.
1. Depending on the program that is being used, either select Printer Properties or Preferences.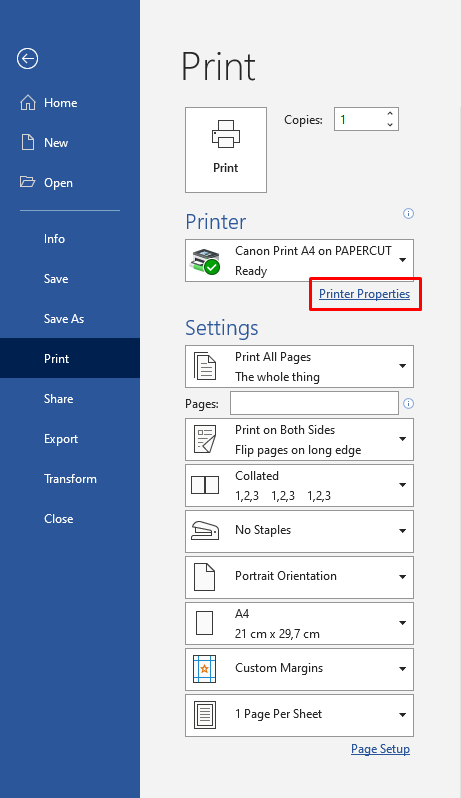 2. In Basic Settings tab you will find 1-sided/2-sided/Booklet Printing: where you can choose 1-sided, 2-sided, Booklet Printing. Press OK.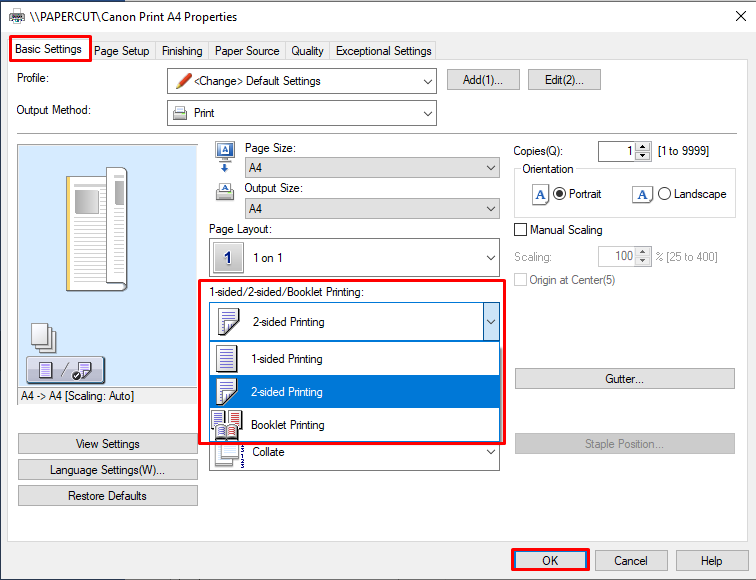 Skip to end of metadata
Go to start of metadata
#trackbackRdf ($trackbackUtils.getContentIdentifier($page) $page.title $trackbackUtils.getPingUrl($page))
You must log in to comment.