Google Forms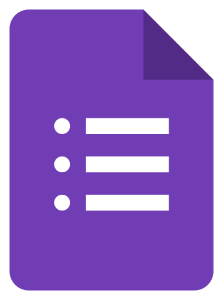 Google Forms on Googlen kehittämä sovellus, jossa voi luoda kyselylomakkeita verkossa. Niihin myös vastataan selaimella. Forms on osa Googlen tekstinkäsittelyohjelmaa Docsia. Se taas kuuluu laajempaan palvelupakettiiin Driveeen, joka taas sisältyy muun muassa oppilaitoksille suunnattuun Google Workspace for Education -sovelluspakettiin.
Choice Eliminator 2 -lisäosa poistaa Google Formsin lomakkeesta ne vastausvaihtoehdot, jotka joku on jo valinnut. Lisäosa ei välttämättä toimi, jos vastaajia on paljon ja he täyttävät lomaketta samaan aikaan.
Google Forms is tool for personalized surveys or quizzes.
Osoite - Address
Kirjallisuutta - Literature
Videoita - Videos
Käyttökohteita - Targets of use
palautteet - feedback
gallupit - surveys
tentit - exams
Käyttökokemuksia - User experiences
"Office 365 Formsin kyselylomakkeen voi ajastaa, Google Formsia ei. Molempiin muuten onnistuu pisteytyshomma eli voi antaa pisteitä vastauksista automaattisesti."
Käyttöehdot - Terms of Service
Sovellus kuuluu Metropolian virallisiin työ- ja opiskeluvälineisiin.
Metropolian opiskelijat ja henkilökunnan jäsenet käyttävät palvelua Metropolia-tunnuksillaan. Linkit oppaisiin.
Käyttäjätukea antaa Metropolian tietohallinnon Helpdesk.  
Sovellusta Metropolian töihin käytettäessä on noudatettava Metropolian pilvipalveluehtoja.
Pilvipalvelujen tietoturvallinen käyttö
Google Workspace jakaa keräämiään tietoja Google-yhtiön sisällä tai myös muille yhtiöille.
---
The application belongs to the authorized work and study tools in Metropolia.
Metropolia students and staff members use the service with their Metropolia accounts. Links to guides. 
User support is provided by the Metropolia IT Services Helpdesk. 
Terms of Service of Metropolia cloud services must be applied by each user.  
Google Workspace shares collected data internally or also with third-party companies. 
Skip to end of metadata
Go to start of metadata
You must log in to comment.